Monday February 14
Morning Report
Cold air has returned with much of the region down well below freezing. Anything that was wet did freeze overnight, so you may encounter some patchy ice walking or driving. But I do not see a widespread issue on roads. 
Snow Showers: SCHOOL DELAY
Carroll County and Baltimore Co (Hereford Zone)
As discussed over the weekend, a disturbance has brought snow showers to our region. This could drop a fresh coating to 1/2" of snow.
This is passing through northern MD Counties. Roads are getting covered on Rt 140 and I-83, so be careful traveling.
It should reach the north side of the beltway by 7 AM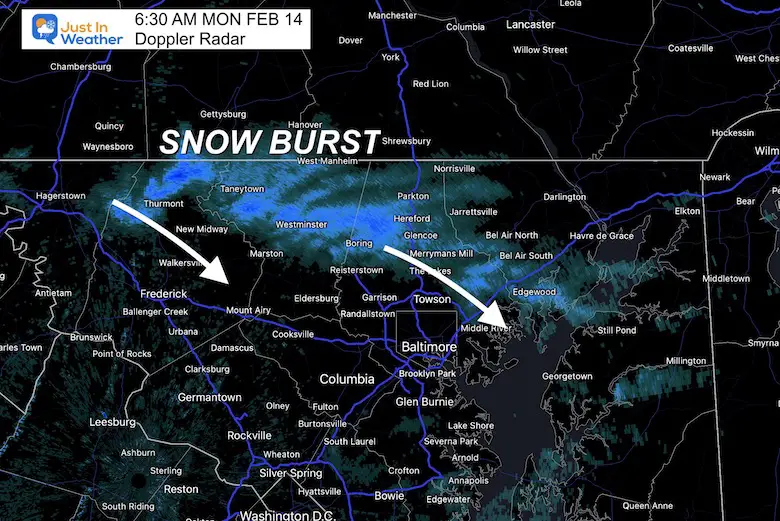 Radar Loop
Watch this disturbance develop and drop south.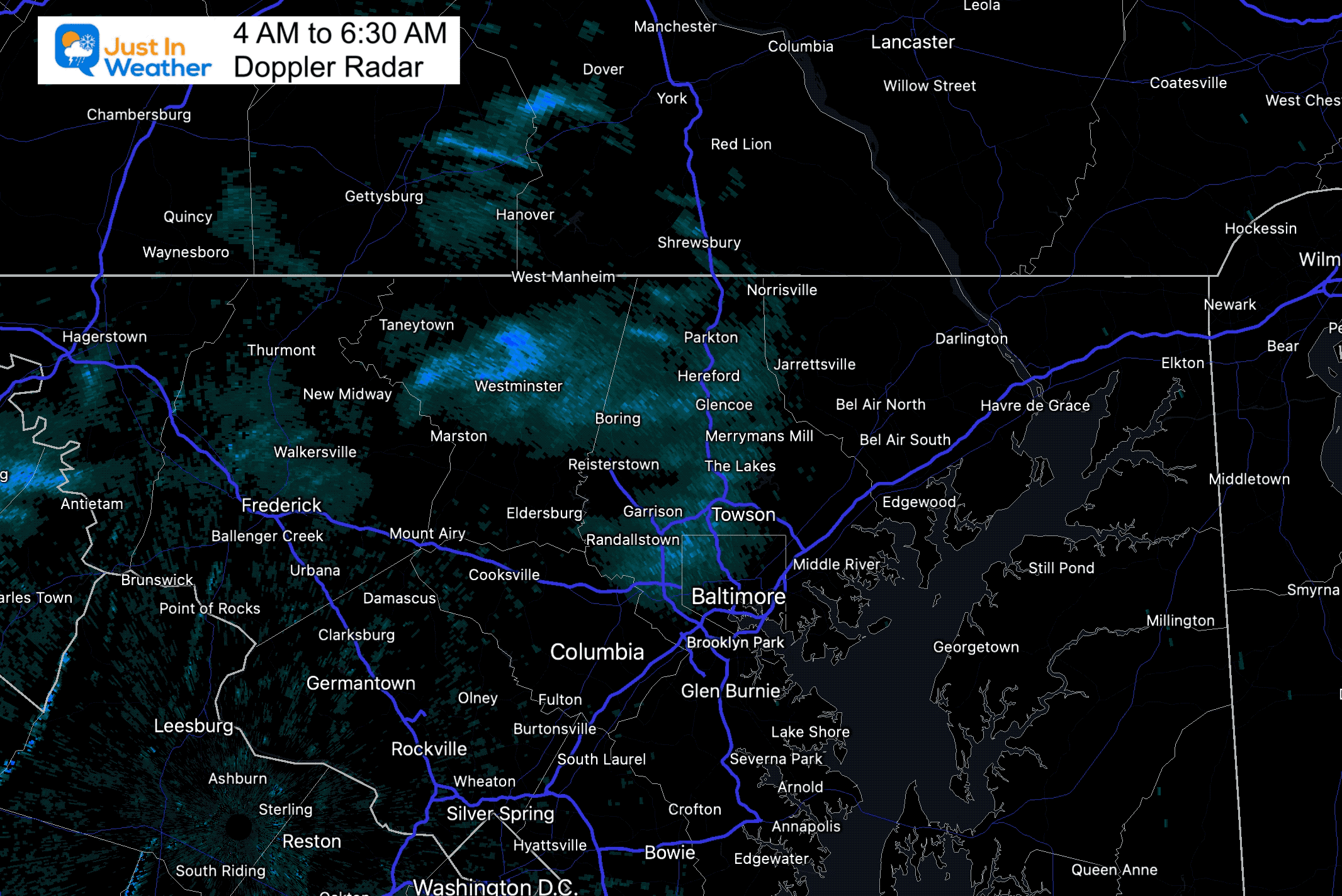 Headlines
Valentine's Day: Windy and Cold
Warming Up Mid Week
Thursday: Spring Temps, Maybe a T'Storm
Next Weekend: Quiet and Mild
Morning Set Up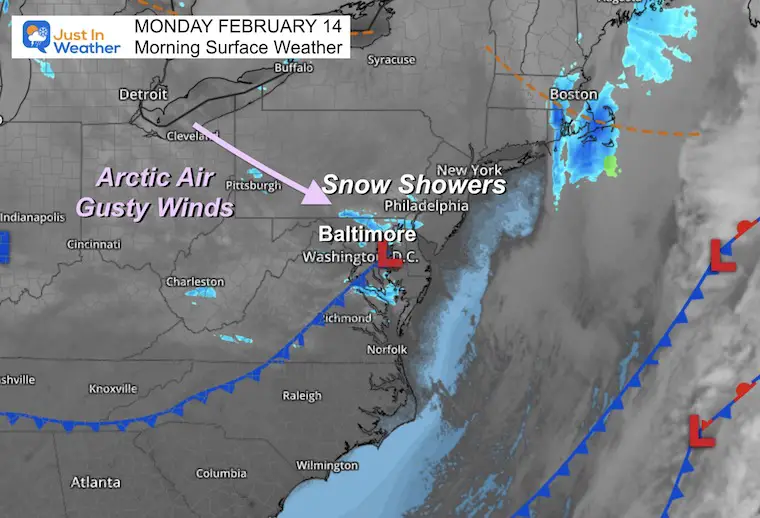 Morning Temperatures
Afternoon Temperatures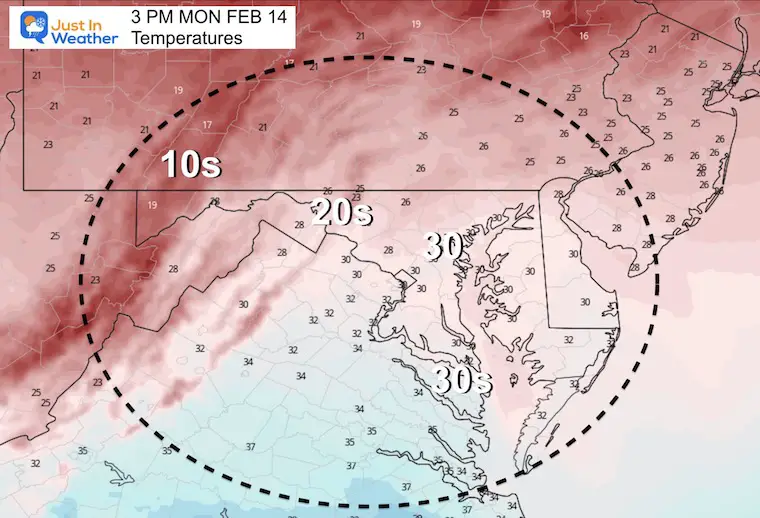 Wind Forecast
Wind Chill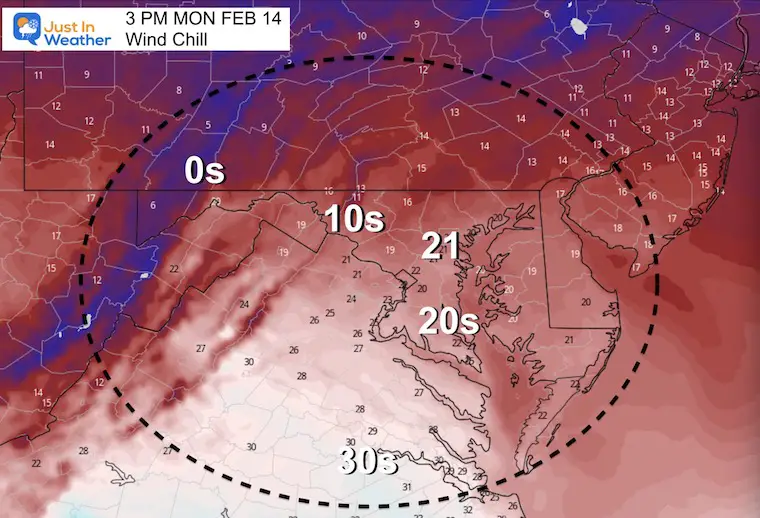 I CASE YOU MISSED IT:
Click to see: February 13 Snow Report And Grade My Forecast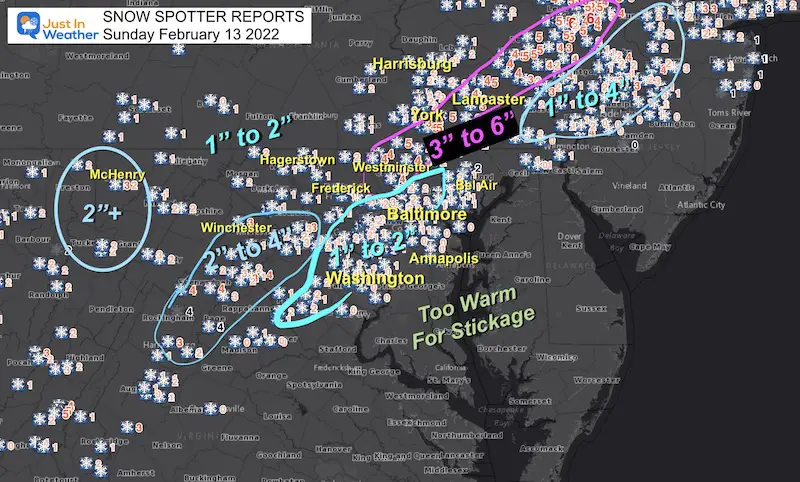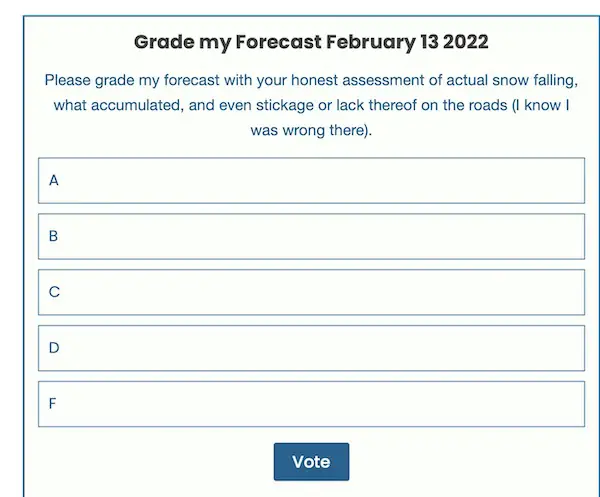 Weather Almanac: Climate Data at BWI
TODAY February 14
Seasonal Snow: 14"; 
+1.3" ABOVE AVERAGE
Normal Low in Baltimore:  26ºF
Record -2ºF in 1983
Normal High in Baltimore: 45ºF
Record 70ºF 1951
Tuesday Temperatures
Morning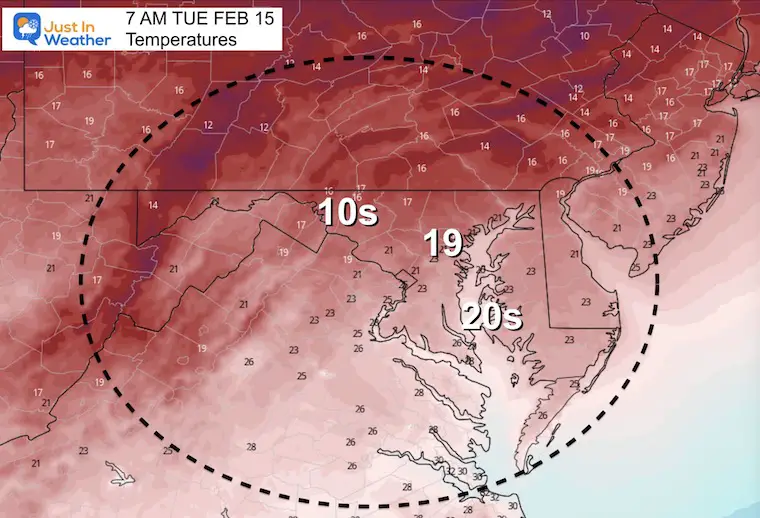 Afternoon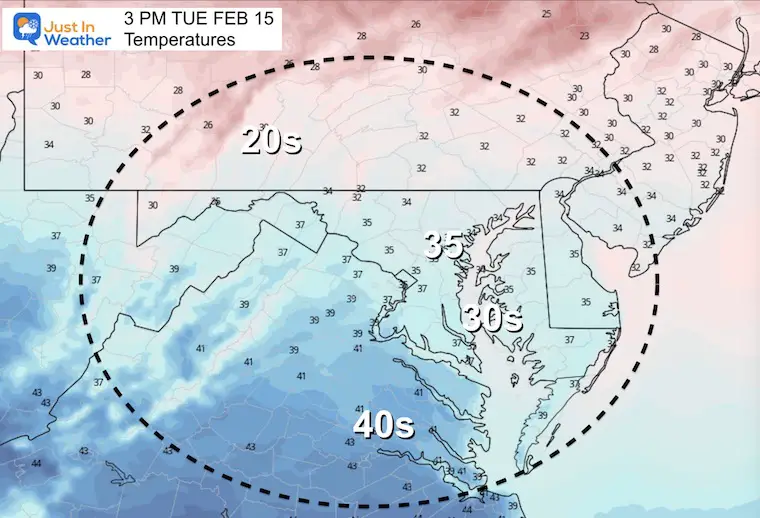 Looking Ahead
7 AM Thu to 10 AM Fri – GFS Model
The next storm will track well west and north of us. This will allow a surge of very warm air (60s) and also feed into potential thunder with the rain Thursday night.
The colder air that will follow into next weekend will be near average.  It is likely we remain relatively mild for anther week to follow. 
7 Day Forecast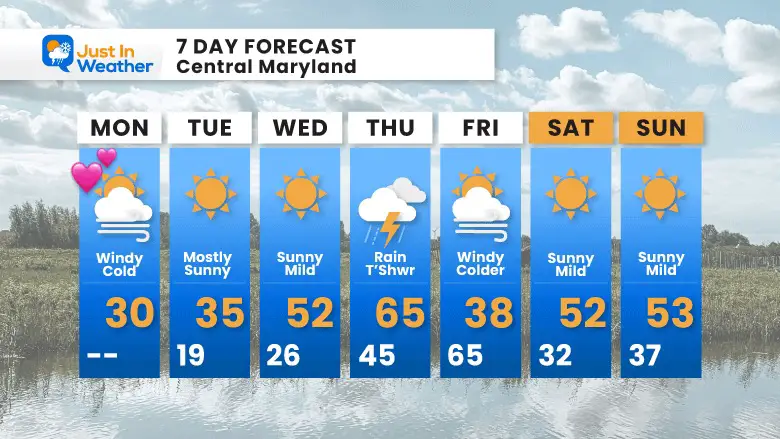 Weather posts straight to your inbox
Sign up and be the first to know!
ALSO SEE
ALL FITF GEAR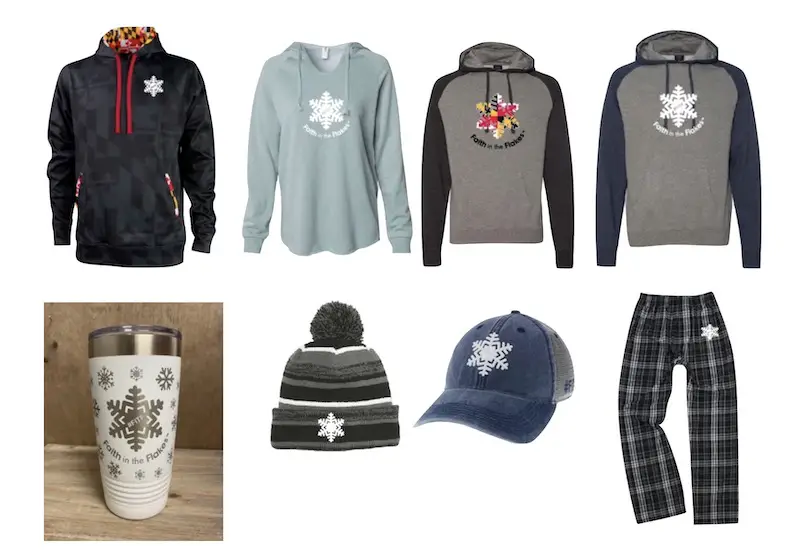 FITF THUNDERSNOW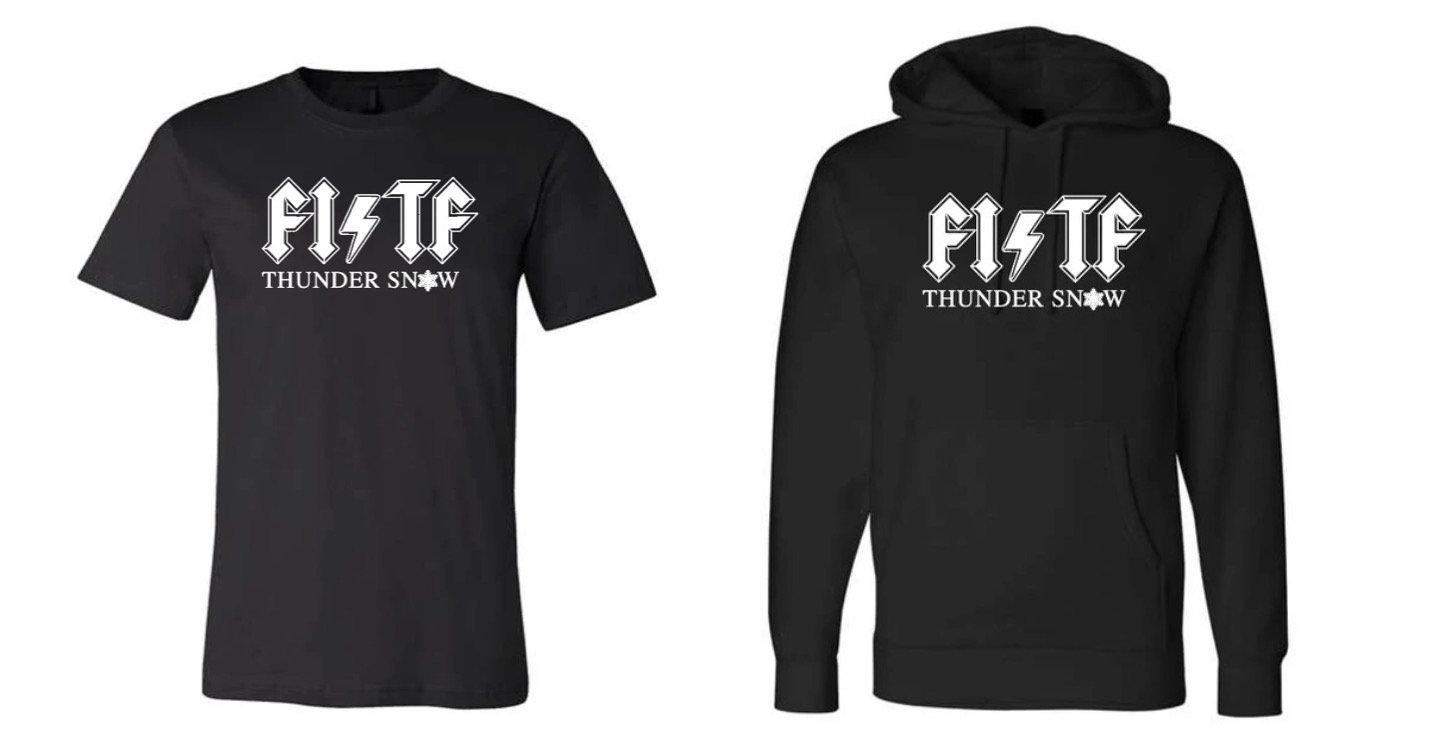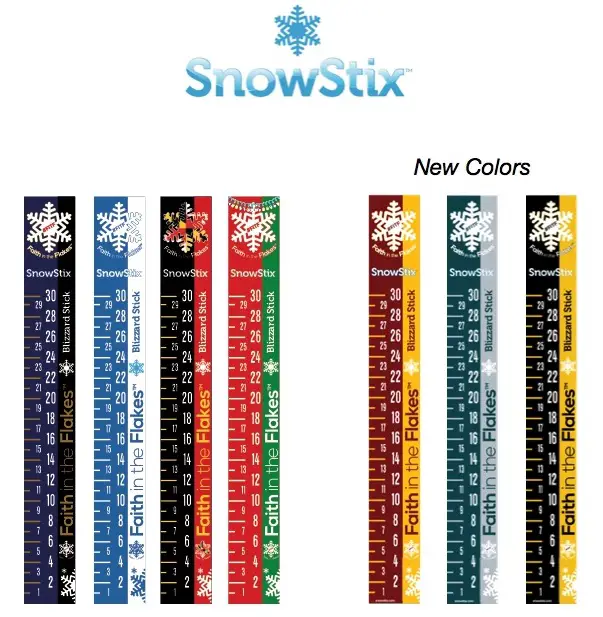 Winter Outlook Series: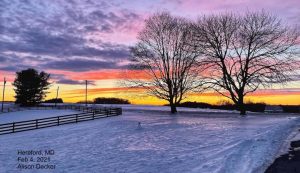 Last Winter Recap: My Old Outlook And Your Grades Of My Storm Forecasts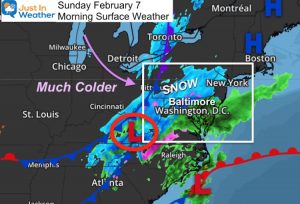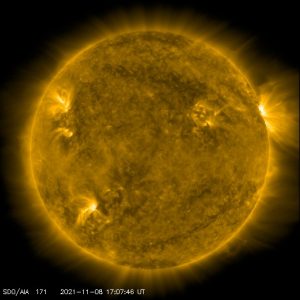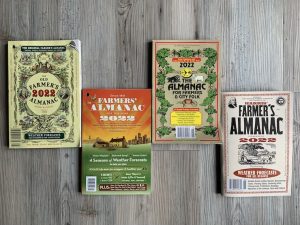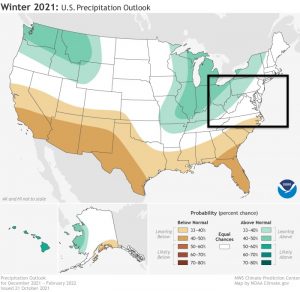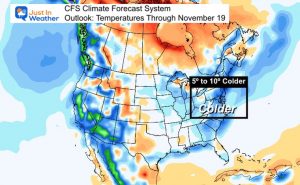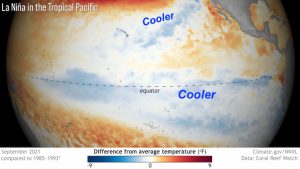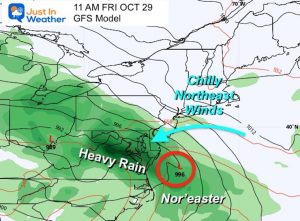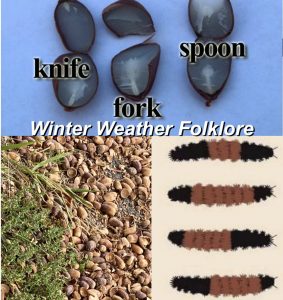 *Disclaimer due to frequent questions:
I am aware there are some spelling and grammar typos. I have made a few public statements over the years, but if you are new here you may have missed it:
I have dyslexia, and found out at my second year at Cornell.  I didn't stop me from getting my meteorology degree, and being first to get the AMS CBM in the Baltimore/Washington region. 
I do miss my mistakes in my own proofreading. The autocorrect spell check on my computer sometimes does an injustice to make it worse. 
All of the maps and information are accurate. The 'wordy' stuff can get sticky. 
There is no editor that can check my work when I need it and have it ready to send out in a newsworthy timeline. 
I accept this and perhaps proves what you read is really from me…
It's part of my charm.
#FITF